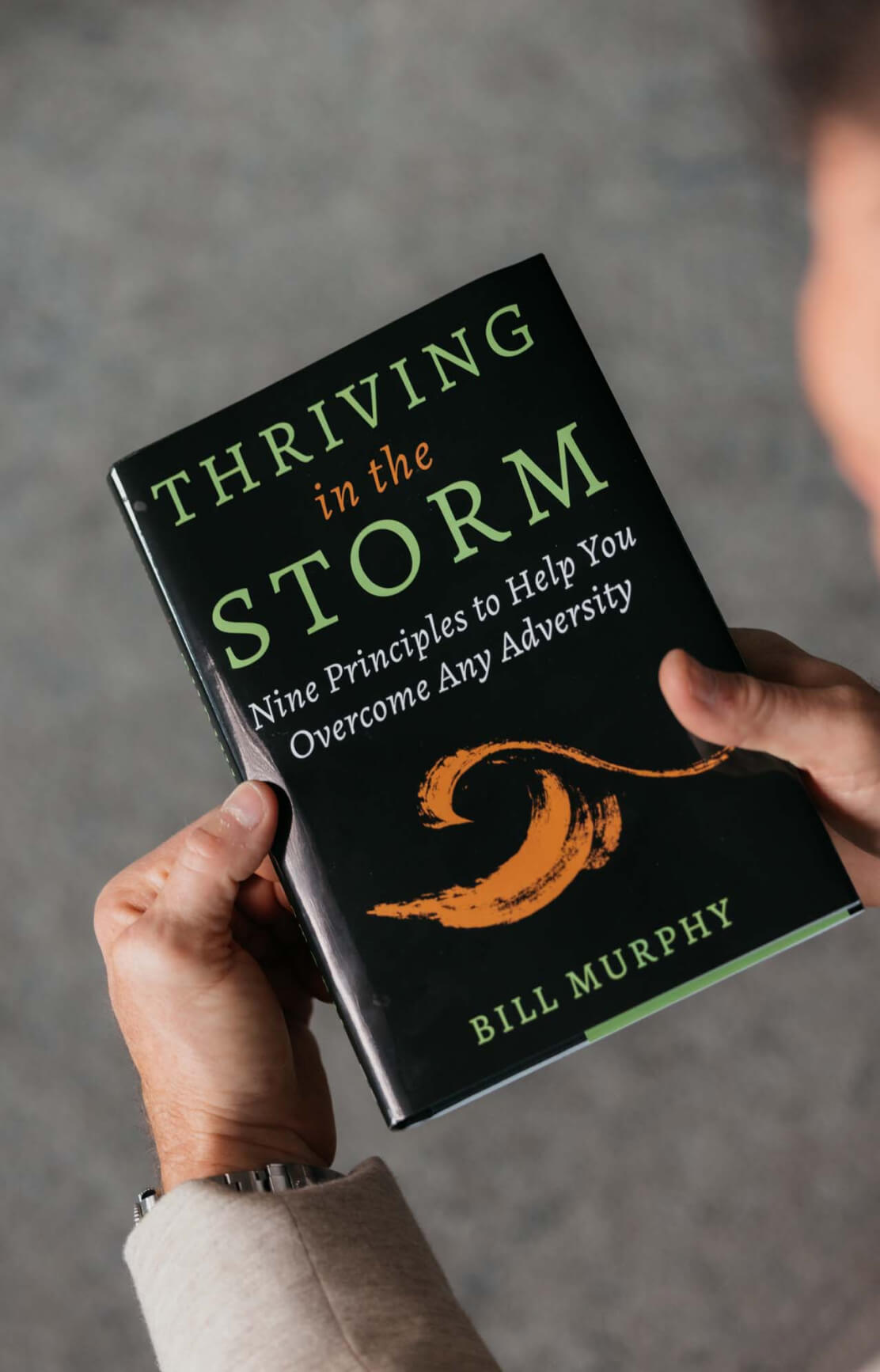 Customer reviews
5.0
Wall Street Journal and USA Today bestseller!
When the storm hits, you have three choices: give up and become a victim; do what you can to survive; or learn to thrive. You don't need to have exceptional talents or resources to overcome adversity, be resilient, and achieve extraordinary goals. You are capable of more than you realize. You can learn to thrive. Bill Murphy is proof. He'll be the first to tell you he is nothing special, but he has been able to overcome an abusive childhood, post-traumatic stress (PTSD), mental health challenges, and unexpected crises to finish an Ironman, earn a black belt in Krav Maga, and run the Boston Marathon five times—including one on crutches. He's a regular guy who is now thriving at the top of his profession, too. And in Thriving in the Storm, he explains how you can achieve similar success. Murphy shares the 9 key principles and the 21 mental exercises that have helped him succeed beyond what anyone thought was possible. By distilling wisdom from other experts like Tony Robbins and Grant Cardone, sharing personal anecdotes, and telling inspirational stories from other achievers he's encountered, Murphy has created a straight-talk, self-help resource for anyone who wants to transform their feelings of shame, anger, resentment, rejection, and fear into great success, happiness, peace, and an overall enthusiasm for life.
Reviews of Thriving in the Storm:
Thriving the Storm is the life journey that will help you make peace with your past to see the purpose of your future. If you are real with yourself and truthfully answer the questions, you will be able to see your future in a different light.
This book is very similar to the obstacle is the way by Marcus Aurelius, in that the tales of strife which lead to growth are inherently essential to the fabric of the book and the message of hope which is the theme in the authors attempts to deal with his struggles in early life and as a father and the mountain of sweat he produces to overcome each obstacle.
A great read for anyone looking to overcome both personal and professional storms- that come at us everyday. The author opens up and uses his life experiences and lessons to provide the reader not only ways to survive but great exercises to help thrive in any situation. Great read and easy to implement into your daily life.
Gives You a Lot of Useful Tools
As a person who's dabbled in the world of self-help books, this was one of the better ones. There are some great tools I took from this book like color coding my schedule and how to find a good life coach. The book is an easy read that flows well and honestly covers a lot of ground in not a lot of pages.
Great book to have and read. This book is awesome! Not a heavy or dull book.Adversity sucks! Yet we have something to overcome it. It takes our will and determination to succeed, which is what this book teaches us in many clever ways. Good exercises and thoughts throughout.
Thriving – Opposite of Victim
Bill Murphy is an amazing human being. From a horrific childhood to a successful businessman and high performing endurance athlete, he doesn't know the word quit. Drive, laser focus, perseverance, Plan B, etc. this book tells his story while giving the reader a path thru which they can also go. The exercises given at the end of the chapters are tools to overcome trauma of all kinds – and we all have trauma.
Get Your Copy of Thriving in the Storm